Our Gentlemen
These are the gentlemen of Nimh.
Our boys are available to approved outside females who meet our minimum requirements unless marked as 'Retired' or otherwise stated.  If you think one of our guys might fit the bill, please fill out our Stud Dog Application to tell us a little more about your girl.
GRCH Nimh's Point 'N Clique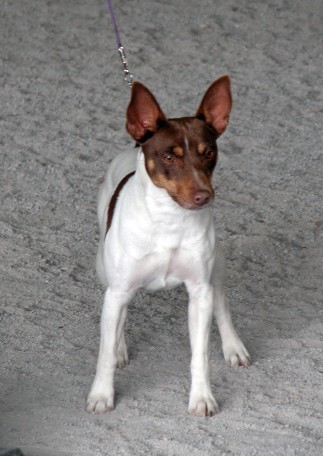 'Clique'
Male
13.25? tall
Chocolate Tri Piebald
05/07/2008
Available for Stud to approved females.
Clearances:
Primary Lens Luxation – Normal/Clear By Parentage
Patella Luxation – RAT-PA996/16M/P-VPI
Congenital Cardiac – RAT-CA734/58M/P-VPI
PRA-PCRD – DNA'd Clear
Microchipped
Clique carries black & dilute.
Mr. Man, Clique, was from our fist litter out of CH Dragonfly I'm Something Elsa & CH RaganRat's Wrinkle In Time CGC and was not an attractive puppy.  However, something told us to keep him to watch and boy are we glad we did!  We'd have been seriously kicking ourselves.  Clique has given his all, this handsome fellow is our first homegrown Show Champion but also our first Show Grand Champion!  We couldn't be prouder and look forwards to his upcoming babies.
Clique is a fabulous, and natural ratter, helping to train the youngsters.
CH 'PR' RaganRat's Who's On First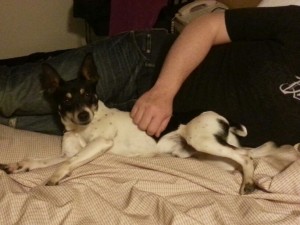 'Dodger'
Male
Estimated at ~15″ tall
White/Black/Tan Piebald
04/2012
Clearances:
PLL: CBP
Congenital Cardiac: Normal
Patellar Luxation: RAT-PA994/24M/P-VPI
PRA-PCRD – DNA'd Clear
Degenerative Myelopathy (DM) – DNA'd Carrier
Dodger is chocolate factored.
Dodger's daddy, NBOB GRCH Ratituee Grand Slam I Am, championed at Westminster 2014.  Dodger will hopefully be making a debut in the AKC in the next year or so.
* "Purple Ribbon" is a distinction UKC gives to a dog if all 14 ancestors within a dog's three generation pedigree (parents, grand parents, great grandparents) are each registered with United Kennel Club.