Welcome to Nimh Kennel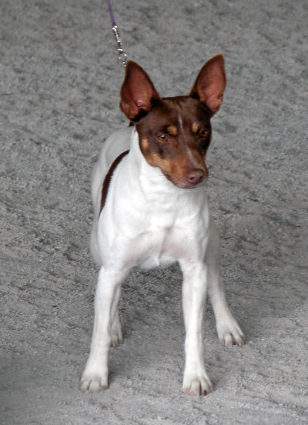 We have owned Rat Terriers all our life but our breeding/exhibitor kennel was started in 2006.
Nimh Kennel is a proud breeder and exhibitor of the American Rat Terrier.  We are nestled snug in the beautiful Blue Ridge Mountains on a small 50 acre farm in the Southwestern part of Virginia.  We are about an hour and a half south of Roanoke and about 45minutes to an hour from the Tennessee state line.
Our ultimate breeding goal is to improve the health & conformation of the Rat Terrier, as well as to maintain beneficial bloodlines as well as working ability.  We raise 1-2 litters a year focusing on our mission, not quantity. Our Rat Terriers are tested in accordance with OFA testing protocol for Luxating Patellas, Congenital Cardiac & Primary Lens Luxation prior to breeding, we are working on adding Hip Dysplasia & Legg-Calves-Perthes to our list of testing as well. We only pair dogs for breeding that represent the standard as written by the United Kennel Club and show strong Rat Terrier characteristics.
Our breeding goal is to produce small standards ranging from 13-14.5″ tall in a well balanced structure of bone and muscle with erect ears. These dogs are bred to retain their prey drive for vermin and some could possibly excel as squirrel hunters. These dogs could also hold their own in the conformation ring as well as the performance ring, all while holding down your favorite quilt on the bed as companions.
All puppies are raised under foot and are wormed on a regular basis as well as will receive their puppy shots (Parvo/Distemper minimum) suitable for their age. All puppies are AKC-FSS/UKC Registrable unless otherwise noted.
Please contact Ashley for more information and/or availability.
Ashley is also an Approved Canine Good Citizen Evaluator for the American Kennel Club