Litters & Available Dogs
Here is a list of our available dogs & puppies.  Please contact Ashley, via the contact page, for more information.  If you are interested in applying for a puppy/dog below please fill out the application found here and email to patchpony@aol.com.  This application is the same when asking to be put on a waiting list as well.  No puppy will be sold without a completed application.  Thanks.
How to Inquire and Apply for a PUPPY
1. Fill out & submit the Family Questionnaire*
2. Complete application and email to Breeder.
3. Once approved, a sales contract will be sent to you.
4. One-Half Deposit (non-refundable, but is transferable) of purchase price required to hold any puppy or dog.
PET PUPPIES GO ON SPAY/NEUTER AGREEMENTS, NO EXCEPTIONS
SHOW/BREEDING PUPPIES ARE SOLD ON CO-OWNERSHIP WITH BREEDER & CONFORMATION SHOW-TO-TITLE (UKC or AKC) AGREEMENT, NO EXCEPTIONS.
We DO NOT sell to commercial breeders.
Our future litters can be found here.


Available Dogs
Nimh's Abracadabra Alakazam – 'Abby'
CH 'PR' Nimh's Pure Imagination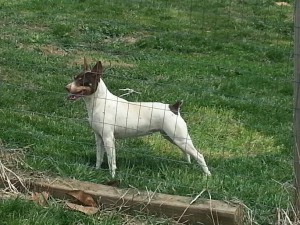 'Mage'
Female
??" Tall
White/Chocolate/Tan Piebald
08/28/2010
Clearances:
Primary Lens Luxation – CBP
Congenital Cardiac – RAT-CA737/17F/P-VPI
Patella Luxation – RAT-PA999/17F/P-VPI
PRA-PCRD – DNA'd Clear
Mage is a tom-boy type dog.  She runs with the big guys, lot of rAttitude.  She owns the name 'Rat Terrier'.  Our girl is out of CH RaganRat Braided BanglesNBeads & by GRCH Nimh's Point 'N Clique.  She takes after her daddy in the solid bone and muscle category.
Now UKC GrandChampion Pointed!
Available Litters/Puppies
Dizzy X Dodger
BORN JULY 8, 2019;
1 Female & 1 Male Available
PLL & PRA Clear By Parentage
Sire, Dodger, is a UKC Champion.
Pups are limited AKC & UKC Registered.
Both parents are WONDERFUL ratters, Dizzy shows no mercy and Dodger has treed even coons! Expecting Black Tris in tux and piebald patterns with good structure and bone.
Call for more information, if you're interested in a pup please fill out an application found on our site.
Pictures here: https://www.facebook.com/nimhkennel/
*"Purple Ribbon" is a distinction UKC gives to a dog if all 14 ancestors within a dog's three generation pedigree (parents, grand parents, great grandparents) are each registered with United Kennel Club.
*"Dilute" is a reference to a recessive gene that is credited with producing Blues (dilute of Black) & Pearl/Isabella (dilute of Chocolate). Read more about color genetics >
Rat Terrier-Canine Color Genetics
<