Our Ladies
These are the lovely ladies of Nimh.
'PR' Nimh's Black Roses Red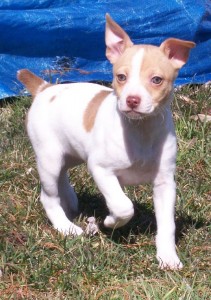 'Rummy'
Female
??" Tall
White/Chocolate Sable, Piebald
01/15/2013
Clearances:
Primary Lens Luxation – CBP
Congenital Cardiac – Normal
Patella Luxation – Normal
PRA-PCRD – DNA'd Clear
Miss Rummy is full of piss 'n vinegar.  She's the first one out of the gait and a trip or tumble never breaks her stride.  We have some big dreams for this little girl.  She's already showing instinct and drive, a future terrier racer may? or Barn Hunt prospect?  Rummy is by our homebred boy CH 'PR' Nimh's The Candy Man and out of 'PR' CC's 4 Ur Entertainment.  Watch for her ring debut later 2013.
* "Purple Ribbon" is a distinction UKC gives to a dog if all 14 ancestors
within a dog's three generation pedigree (parents, grand parents, great
grandparents) are each registered with United Kennel Club.