Nimh's Abracadabra Alakazam – 'Abby'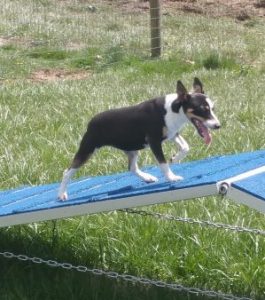 Miss Abby is a 1yr old Miniature Rat Terrier we've decided to place. Sired by GRCH Nimh's Point 'n Clique and out of JanDee's Driving Miss Dizzy.
She's clear of PLL & PRA by parentage
She'll be spayed before she leaves, no exception.
AKC & UKC Registered
06/19/2019
Looks like Dizzy & Dodger are expecting a litter in July!
This will probably be Dodger's last litter.
If you're interested in a wonderful, full personality, beautiful Rat Terrier please get your application in.
05/09/2019
Spring/Summer has finally arrived! Dizzy & Dodger had a successful tie this morning so we'll be looking for puppies early July 2019! Expect some excellent black tri ratters! If you're interested in a puppy please submit an application or feel free to email/call for more information. Watch for the announcement!
04/02/2019
We are still here 🙂 I apologize for lack of updates. It looks like we'll be making some hard decisions and changes in the coming year to keep improving in our program. We'll have a couple adults available for retirement as well as a litter a little later this year if all goes to plan. Follow us here (or on Facebook) to stay up to date. At this point I don't think Dizzy is pregnant 🙁
02/24/2019
Just to give everyone an update on what's going on here…
Right now, we only have Mage still available to a retirement/pet home.
2019 Litters are pending, but hopeful for a spring/summer litter. Looking at Dodger X Dizzy once again, we're hoping to keep back a little boy for ourselves. Also may be looking at crossing Secret with Clique. Information will be posted once the ball starts rolling 🙂
06/07/2018
A bit of bad news to start our day, I was having some second thoughts on Rummy being pregnant so had her ultrasounded.  Looks like I was right that she was pregnant but looks to be reabsorbing them 🙁  So looks like no puppies this summer.  Our next breeding we'll do this fall, I hope.
04/11/2018
Miss Rummy has come into season, we're pairing her with Clique.  We're taking applications for prospective homes, if you're  interested please fill out an application.  If you have any questions, please feel free to email or call us.
02/13/2018
Happy, almost, Valentine's day!  Miss Secret is still looking for her forever Valentine.
We're also making plans for a, hopeful, summer litter.
12/13/2017
We still have one little girl looking for her forever home.  She's adorable.  Call or email for more information.
11/10/2017
Shew, busy weekend coming up!
Puppies were vet checked in excellent health Wednesday!  They were 8 weeks on Thursday and are now ready to go to new homes!  We will know by the end of the weekend who we still have available so keep a check back if you were interested in a puppy from this litter.
Also, don't forget our 2018 calendars! Link https://ratsofnimh.com/calendar
They're selling like hot cakes!  Already have a 2019 plans in the making.  There are instructions to submit if you'd like to get your Nimh Puppy featured in 2019 calendar 🙂