12/25/19
Merry Christmas to all!
We still have 2 female puppies and 5 male puppies available to great homes. Visit facebook.com/nimhkennel for pictures and video.
12/12/19
Pups had a clean bill of health on their vet exam and had their 2nd round of vaccinations, they're ready for their new homes. We still have availability.
Give us a call or drop us an email at ashley@ratsofnimh.com for more info. Pictures found at facebook.com/nimhkennel
10/03/2019
Pups had their dewclaws and tails done yesterday. Looks like we have 3 females and 5 males. All seem to be doing great! We'll start taking deposits on the 5th!
09/28/2019
So Ms. Rummy did a thing 🙂 We have 8 puppies! This is Dodger & Rummy's last litter. Watch for a puppy cam and updates on what we have. She's being an excellent mommy and still a little nervous of handling. She did work hard for those babies lol.
09/23/2019
Be on the watch for a new litter cam to be posted! Rummy is about to pop, she is bred to Dodger. This will be both Rummy & Dodger's last litter, both will be looking for retirement homes soon.
Rummy is due any day!
If you're interested in a pup, or even older dog adoption (we have a few) please fill out an application to get on our waiting list! You can also follow us at facebook.com/nimhkennel
09/16/2019
We still have 1 female and possibly 1 male available in our Dizzy Dodger litter.
We're also retiring a few adults, end of the year, so keep a look out for some great dogs to come available that are out of that puppy stage but many years of love left!
PUPPY CAM!
Puppy cam is back for your viewing pleasure! 🙂
Enjoy watching Dizzy & Dodger's pups grow with us!
Litters & Available Dogs
Nimh's Abracadabra Alakazam – 'Abby'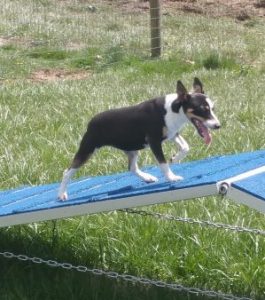 Miss Abby is a 1yr old Miniature Rat Terrier we've decided to place. Sired by GRCH Nimh's Point 'n Clique and out of JanDee's Driving Miss Dizzy.
She's clear of PLL & PRA by parentage
She'll be spayed before she leaves, no exception.
AKC & UKC Registered
06/19/2019
Looks like Dizzy & Dodger are expecting a litter in July!
This will probably be Dodger's last litter.
If you're interested in a wonderful, full personality, beautiful Rat Terrier please get your application in.
05/09/2019
Spring/Summer has finally arrived! Dizzy & Dodger had a successful tie this morning so we'll be looking for puppies early July 2019! Expect some excellent black tri ratters! If you're interested in a puppy please submit an application or feel free to email/call for more information. Watch for the announcement!