October 30th, 2012
I was attempting to come up with a good topic for our first Blog posting, and of course we have to keep it dog (pet) related so I was thinking with our recent 'Frankenstorm' we should talk about some pet safety tips.
R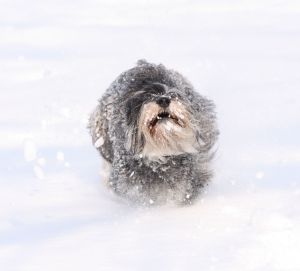 ight now, we're 'walking in a winter wonderland' – at the end of October here in Southwest Virginia!  Here are a few tips on keeping your pets warm and safe during freezing temperatures.
     If you have outside pets and can't bring them in, be sure they have plenty of warm bedding tucked away in a sturdy shelter to battle the cold and wind.  Dry straw and shavings make for a nice soft area to nest.
     You will want to think about increasing your outdoor pets' caloric intake as well to help them put on some extra fat for insulation against the dropping temperatures.
     Don't forget the drinkable water to digest the extra calories.  Without water, the pet can dehydrate quickly even with snow all around.  Don't think that your pet can eat snow instead of drink water, by eating snow the pet will quickly lower its core body temperature and can lead to hypothermia and potential death.
     Some breeds are made for colder climates and fair fine in the cooler temperatures, examples being huskies and malamutes.  Please keep the smaller dogs indoors.  Smaller dogs and short haired breeds will feel the cold much quicker than the larger, double coated breeds.  The smaller breeds will be in more frequent contact with the fallen snow which, after a period of time, can lead to hypothermia from exposure.
     There are some health conditions that can hinder a pet's ability to regulate their body temperature, such as heart disease, kidney disease, hormonal imbalance and diabetes.  Keep a close watch on them as they do their business outside, if it's cold for you it is cold for them as well.  A jacket or sweater could help in those brief outdoor moments but not meant to be worn for long periods of time so please don't think that your sweater-ed dachshund can spend all day outside in a foot of snow.
     Antifreeze, salt and other dangerous chemicals are also a major concern during the winter months.  Wipe of your pets' paws, legs and under belly when they come inside.  Pets can unknowingly ingest the chemicals just by licking it off their body parts and it takes very little of Antifreeze to kill a dog.
     According to the  website, more dogs are lost during the winter than any other season so please remember to keep identification tags on your pets at all times.  Microchips are also great as a backup since can't be lost.
Everyone stay nice and cozy — maybe even 'throw another dog on the bed' 😉