'PR'Nimh's Black Roses Red – 'Rummy'
Rummy has been wonderful for our program and has done our puppies proud. She is now looking for a retirement home where she can be lavished in loved. She's pretty low on totem pole here. Been raised around cats and kids. Crate trained.
She is a small standard probably around 13.5-14″ range, very nice portable size. She has been spayed and had a dental cleaning, is now ready for her new adventure.
DOB: 01/15/2013
(Sire: CH 'PR' Nimh's The Candy Man X Dam: 'PR' CC's 4 Ur Entertainment) Full Pedigree
Clearances:
Primary Lens Luxation – CBP
Congenital Cardiac – Normal
Patella Luxation – Normal
PRA-PCRD – DNA'd Clear
'PR'Jandees Driving Miss Dizzy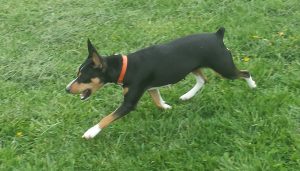 'Dizzy'
Female
??" Tall
Black/Tan/White
05/02/2013
Clearances:
Primary Lens Luxation – DNA'd Clear
Congenital Cardiac – Normal
Patella Luxation – Normal
PRA-PCRD – DNA'd Clear
DM – DNA'd Clear
Scout – Pending Pickup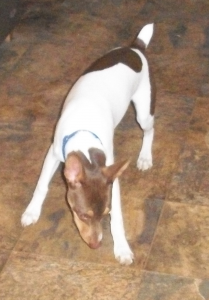 Scout is a standard chocolate tri male puppy.  His sire is Dodger & dam is Penee.  Scout was born July 5, 2014.
Updated on vaccinations (including rabies), he is microchipped & AKC/UKC registered.
Scout is crate trained and is at home in the house, he's good around children of all ages and has looked at our cat but has never given chase.  I can see him doing his rattie duties if needed though.
Scout is PLL Clear by parentage, sire and dam both tested normal for luxating patellas and congenital cardiac.  Sire (Dodger) is UKC Pointed, Sire's sire (NBOB GRCH Ratituee Grand Slam I Am)  became a new champion at the 138th Westminster dog show, Sire's dam (GRCH RaganRat Matisse Masterpiece) is a UKC GrandChampion and received an award of merit in AKC, Dam (Penee) is a UKC Champion, Dam's sire is a UKC GrandChampion & Dam's dam is a UKC champion.
If you are interested in Scout, please email patchpony@aol.com for more information or fill out an application.
CH 'PR' RaganRat Nimh Peneez fr Heaven 'Penee' X 'PR' RaganRat's Who's On First 'Dodger'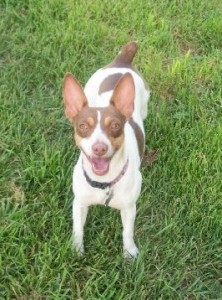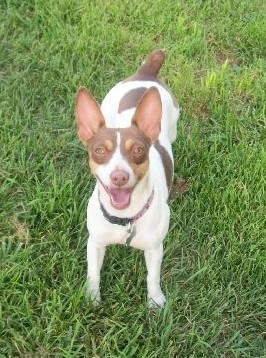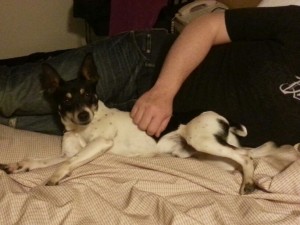 2 Girls & 3 Boys born 07/05/14 —
All puppies have been sold in this litter.
This will be a line breeding.  Expecting GREAT personalities that like to cuddle with some energy.
This pair treed their first coon April 2014… scared me to death!  Dodger may be chill in attitude but knows how to turn it on when the job needs to be done, Penee has always got it going on.
Penee is a smaller girl, small standard in size, probably around 13.5″.  I haven't measured either of them but Dodger is estimated around ~15+/-" tall.  Penee has smaller dogs in her pedigree while Dodger's lineage has some taller dogs so we should get a good variety in size range in this litter.  We're expected chocolate & black tri colors, dilute potential is unknown.
Penee & Dodger are clear of PLL by parentage, both have normal patella luxation & cardiac.
Stumpy
estimated at 2-3yrs old.
Chihuahua mix
Poor boy's person died unexpectedly 12/07.  Being of relation, we took him in with his brother to try and place them in loving homes.  Stumpy is sweet, just very scared.  No meanness or nippyness, just needs a chance to get comfortable.
He'd do best in a home with respectful older children or no children.  Was kept inside but unsure of his house training status.
Will be neutered, vaccinated & de-wormed.
$75.00
'PR' Nimh's Oogie Boogie
'Boogie'
Female (spayed)
??" Tall, ~15lbs
White/Black/Tan Piebald
10/26/11
Clearances:
Primary Lens Luxation – CBP
Little Miss Boogie is out of RVALs Drops of Jupiter at Nimh ('Breck') and sired by CH Nimh's Virginia is for Lovers ('Louie').
UTD on vaccinations and dewormed.  She's PLL Clear, AKC/UKC Registered & microchipped.
Boogie would do best as an only dog in the house hold.  She may be able to get along with a calm natured altered male but would definitely flourish in an only dog home where she doesn't have to share her human.  She doesn't mind cats & is fine around respectful children but would prefer not to be chased or pestered by kids.  Boogie has discovered the joy of chasing things so would do better in a home without fowl.
Boogie is crate trained and does well inside when let out often, or crated when left alone for long periods of time.
She shows hunting instinct and has killed herself a mouse before.
If you're interested in Miss Boogie, please fill out an application and we'll contact you ASAP.
'PR' Nimh's Black Roses Red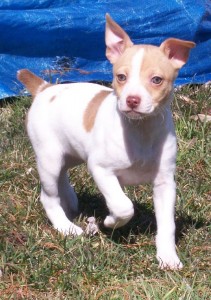 'Rummy'
Female
??" Tall
White/Chocolate Sable, Piebald
01/15/2013
Clearances:
Primary Lens Luxation – CBP
Congenital Cardiac – Normal
Patella Luxation – Normal
PRA-PCRD – DNA'd Clear
DM – DNA'd Clear
Miss Rummy is full of piss 'n vinegar.  She's the first one out of the gait and a trip or tumble never breaks her stride.  We have some big dreams for this little girl.  She's already showing instinct and drive, a future terrier racer may? or Barn Hunt prospect?  Rummy is by our homebred boy CH 'PR' Nimh's The Candy Man and out of 'PR' CC's 4 Ur Entertainment.  Watch for her ring debut later 2013.
GRCH RaganRat's Matisse Masterpiece
'Matisse'
Female
??" Tall
White/Chocolate/Tan Piebald
03/15/2007
Clearances:
PLL – CLEAR
Luxating Patellas – Normal
Congenital Cardiac – Normal
2012: 'PR' CC's 4 Ur Entertainment x CH 'PR' Nimh's The Candy Man
They arrived early January 15, 2013; 2 boys and 6 girls!
Album of pictures located here: https://ratsofnimh.com/galler?g2_itemId=61

Rori Test Results:
– PLL: DNAd Clear
-Patellas: Normal
-Cardiac: Normal
Cedrick Test Results:
-PLL: CBP (Clear by Parentage)
-Patellas: Normal
-Cardiac: Normal
Rori is a heavy set girl, healthy weight probably around 18lbs though easy to let get pudgy around the center.  She's a light red sable, irish pattern, in color.  This girl is intense and doesn't let up when a vermin catches her gaze, she's had a couple successful kills in her days.  She can entertain herself for hours with a ball, she throws it up in the air and tosses it around for her to run after.
Cedrick is a little smaller framed than Rori, he weighs around 16-17lbs pure muscle.  He's got a gorgeous deep chocolate coat with tan points in the tux pattern.  This boy is sired by one of our best ratters, Clique.  Cedrick, himself, hasn't had the opportunity to hunt on his own yet but we look forwards to trying him out soon.  Cedrick is a love bug and wants to please.  I'm also looking forwards to getting him back in the show ring to strive towards his GrandChampionship this year!
We are very excited about the arrival of this litter, it's been a long time waiting.  We're expecting small-medium standard sized dogs at maturity in a good mix of bone and muscle.  We hope to see the hunting instinct carried on in this litter, could be a potential squirrel hunter here.
Puppies will have their tails docked and dewclaws removed.  They will also be microchipped, vaccinated for parvo/distemper at minimum & wormed.
This litter will be 'PR' UKC registered & AKC-FSS registered with eligibility to go to the terrier group when the Rat Terriers move from Misc in AKC middle of 2013.
Puppy video 02/21/13 – http://youtu.be/aE9cLBgZJJw
Puppy video 03/09/13 – http://youtu.be/wJTd_mFa-KQ
'PR' CC's 4 Ur Entertainment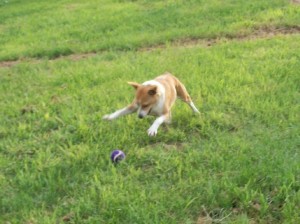 'Rori'
Female
~14.5? Tall (estimate)
Red Sable & White
10/01/2009
Full Pedigree
Clearances:
Patella Luxation: RAT-PA992/28F/P-VPI
PLL: RAT-PLL285/6F-NOPI
Congenital Cardiac: RAT-CA732/28F/P-VPI
Rori came to us from Julie Patterson at Crystal Creek Rat Terriers in GA, who is no longer breeding.  Rori is out of Desert High's Heart's Desire and by Desert High's Eye of the Storm.  This girl has a very easy going, quiet temperament and is a cuddle bug but she LOVES her tennis balls and can entertain herself with them.
Rori is looking for a comfy couch to retire on.  She'll be spayed before leaving.  This girl loves to hunt, has killed squirrel, but does well with cats and kids.