July 19th, 2013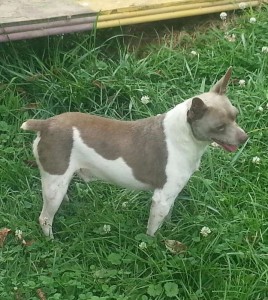 Toby is a little fella, maybe 13-14lbs, estimated at 4yrs old.  He came to us in an unusual situation, he was being jumped regularly by his house mates and his previous owner was in fear of his life so offered him to us.  He came to use with bite wounds on both hind legs and 1 front leg, the vet said he had also been strangled.  The vet couldn't tell us if it was dog or human inflicted.
He's perked up so much since he first came to us, so we fear he's had an abusive past.  This boy follows me everywhere.
He does fine with his housemates here, though sometimes can get a little cocky terrier attitude with other males but just tell him to 'knock it off' and he's fine.  He's only shown it to one of our guys here, and the other guy doesn't pursue anything anyways.
He'd do best in a home without another dominate male, he'd be fine with a female.  He does cower at certain movements if done too quick so smaller, less coordinated children are not recommended.  Would be excellent for a retired couple who want a dog that will adore them.
There isn't a mean bone in his body, all wiggles and wags to greet me when I come home.
Neutered, Vaccinated & dewormed; house broken, crate trained; good with cats, kids and dogs.
Pending Pickup